8 Latest Trends in Wedding Invitations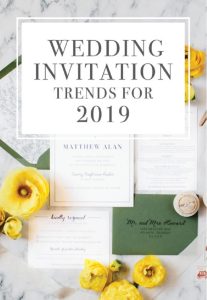 Wedding bells are being heard and the preparations are in full swing. It's time to pay attention to the most important details of the event. You as a bride or groom certainly want it happen like a fairy tale or a red carpet event. So, you have to plan everything that gives the feel of its exclusivity. Just like the wedding venue and wedding dress, the look of invitation is equally important in giving a feel as how lavish your wedding is going to happen. In 2020, brides and grooms have more than ever choices in wedding invitations in papers, colors, textures, embellishments, calligraphy, etc. Various elements are paired cohesively to give it a grander look and intrigue guests with the thought of wedding. On Air Productions, a company pioneered in wedding planning Los Angeles, provides hottest wedding invitation trends of 2020:
1. Vellum cards
Your search for something exclusive will end at Vellum. Smooth, translucent paper, vellum offers a rich luxurious look to wedding invitations. Couples use the paper to add a personal touch to the invitations. Your imaginations and a little creativity by the artists would come up with something that will match your visions and excite guests for your wedding. It may even include the pictures of you and your fiancé. Vellum cards are the hottest trends making rounds all over.
2. Colors for your mood
Gone are the days of traditional wedding cards in white or ecru. Couples are going bold by bucking traditions and choosing a vibrant hue that lightens up their mood. Moody colors are in trend – bold deep plum, black, and navy are taking the attention. In fact, sophisticated jewel tones adorn the wedding cards for winter season. The wedding appropriate cards (shiny fonts on bold colors) with a punch of metallic will simply glam up the invites.
3. Calligraphy
Ancient style boring plain texts on wedding invites are outdated. The trend has reached beyond motifs, patterns and plain texts – pretty and ornate calligraphy is winning couples. Creative, modern letter forms, that latest calligraphy is, feel absolutely fresh and stunning. Shun the one from your grandparents wedding, go for the recent ones that today's calligraphers are creating in style for modern couples. And, how about getting your names hand-lettered?
4. Go glitter
Add dimensions to your wedding invites with a touch of glitters. When you expect your wedding to happen like a fairy tale or a red carpet event, why choose something simple? Glam up not just your looks but also the wedding invites with glittery shines. Nothing could be more apt than glittery invitations to announce your wedding to the world. There're endless design options and exquisite styles in glitters to create a perfect wedding invite. What's more? You can also get them customized.
5. Wax seal design
There's something to take wedding invitations a level ahead, it's elegant, charming, glamorous – that's wax seal! These may be old-world inspired adornments but are trendy and appealing. Wedding invitations with wax seals are winning the heart of couples and enable them to create undeniably attractive invites to announce their forever togetherness to the world. Having organized several glamorous and the most talked about Israeli Wedding Los Angeles, On Air Productions have come across multiple incredible uses of wax seals on wedding invitations. It's a perfect match for modern wedding themes.
6. Gatefold wedding invitations
Style, space and suspense get a unique mix with Gatefold Invitations. As expected from its name, Gatefold invitations present the main event in a gated view with a personalized preview on the front. As it unfolds, it reveals the events in the sequence they are expected to happen. To enhance the suspense and make it look more luxurious, you may want to add a curtain of vellum to the inside. Outside wrapped in vellum can be another way to glam up the card. You can even get your photos added on the front. Thus, it gives guests the perfect preview of your wedding day and events.
7. Acrylic Invitations
Acrylic invitations are making their presence felt in this wedding season. Couples with a different taste opt for acrylic invitations to create an impact. Made from clear cast acrylic, it's a modern yet classic way to send invites. Navy or gold foil on mirrored acrylic creates beautiful and outstanding designs to reveal the date. Various design elements can be customized for a perfect match for your wedding day. The rich looking acrylic invitations are affordable, by the way!
8. Special shapes in invitation card
It's your wedding so it should happen in your own style – including the invitations. Modern age wedding invitations shouldn't follow any rules so go ahead and pick a shape that you are crazy about. It could be like anything that you love – map, bird, tree, or so. There's a high demand for crazy shapes and unique wedding invitation designs to maintain exclusivity.
Conclusively, there's no dearth of choices. Consult one of the experts at On Air Productions for wedding, event planning, Bar Mitzvah DJ Los Angeles, and services to spark up simple occasions.